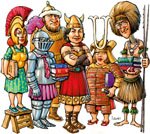 You've seen/read/heard that well-distributed piece about footsteps in the sand, right? And you know that saying about lines drawn in the sand? Well, this has pretty much nothing to do with either of those. It's morning tea time, and I'm just about coffee'd out.
So I thought I'd sign up for a few things, as one does at times like this. First cab of the rank was a new "fan" page over at
ning.com
. This will allow you to sign up to become a member of a very small, select - may I say even possibly elite - group, the Fans of Amanda Credaro. I don't know how long membership will be open for, but it IS free, which is really the most important thing, isn't it?
I signed up for something else too, but now that my loyal reader has rushed off to check out the possibilities at ning, I guess I'll save the other one for another day.